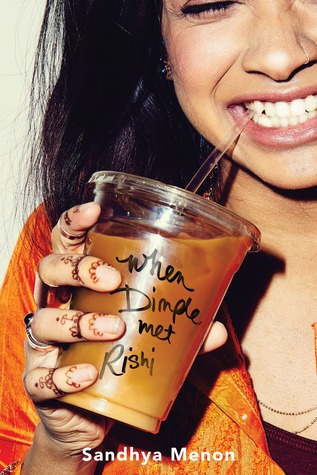 Title: When Dimple Met Rishi
Author: Sandhya Menon
Genre & Age Group: Contemporary, romance, young adult
Goodreads Synopsis:
A laugh-out-loud, heartfelt YA romantic comedy, told in alternating perspectives, about two Indian-American teens whose parents have arranged for them to be married.

Dimple Shah has it all figured out. With graduation behind her, she's more than ready for a break from her family, from Mamma's inexplicable obsession with her finding the "Ideal Indian Husband." Ugh. Dimple knows they must respect her principles on some level, though. If they truly believed she needed a husband right now, they wouldn't have paid for her to attend a summer program for aspiring web developers…right?

Rishi Patel is a hopeless romantic. So when his parents tell him that his future wife will be attending the same summer program as him—wherein he'll have to woo her—he's totally on board. Because as silly as it sounds to most people in his life, Rishi wants to be arranged, believes in the power of tradition, stability, and being a part of something much bigger than himself.

The Shahs and Patels didn't mean to start turning the wheels on this "suggested arrangement" so early in their children's lives, but when they noticed them both gravitate toward the same summer program, they figured, Why not?

Dimple and Rishi may think they have each other figured out. But when opposites clash, love works hard to prove itself in the most unexpected ways.
Source: Thanks so much to Indigo Books & Music Inc. for providing me with a physical ARC of this book!
How I Found Out About It: Blogging
Over the past few months, I have spotted When Dimple Met Rishi on a lot of Waiting on Wednesday and TBR blog posts- there has been so much hype about it, and many other bloggers who also got early copies have adored it. So, I naturally joined into all that hype. When I found this book as an option on the weekly Indigo ARC  newsletter, I definitely requested it right away!
It turned out that just as I'd expected, I adored this book. It was diverse, light, fun, and basically everything I wanted it to be! (Well, almost.)
To quickly summarize the novel, it follows the dual POVs of Indian teens Dimple and Rishi. Their parents want to set up a marriage for them, but they don't really know each other yet, so they get sent to the same computer camp and are paired up to work on a project together. But the two are polar opposites, so will this get in the way of their relationship? And even despite that, can they pull off a relationship under their parents' wishes and expectations?
To be honest, I didn't love the characters, and that's the one thing that kept me from giving this book a 5-star rating. I found Dimple (the female protagonist) to be a bit stuck-up and whiny, which is something that always irks me with some characters. I get that she always wanted things to be perfect, but I just got a bit fed up with her at times. As for Rishi (the guy), he was okay; a bit better to stand than Dimple, but I simply found him to be unmemorable.
I have to say that instead of the characters, I really liked the premise of this book. I have never read much about the Indian culture, let alone an arranged marriage, and I found it so interesting to read about it in this story. This book also sent out great messages about doing anything you set your mind to, and it really was a stunner!
If you are looking for a nice, adorable, diverse story to enlighten your mood, then look no further than When Dimple Met Rishi. It is really an amazing story with great morals, but don't necessarily expect to be wowed by the characters.
*I received an advanced reader copy of this book from Indigo Books & Music Inc. in exchange for an honest review.*